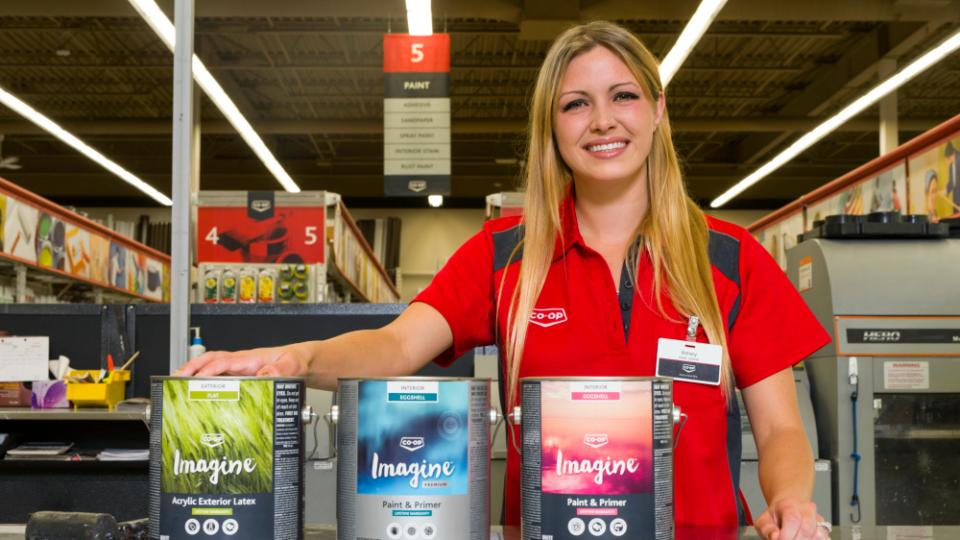 Project Centre
September 18, 2019
From small renovations to major construction, Wetaskiwin Co-op has what you need to complete your project and stay on budget. No job is too small or too big for our building projects professionals to handle.
For over 95 years the Wetaskiwin Co-op has prided itself in being a partner to area homeowners and contractors. We continue to offer you the finest selection of home improvement and building products at affordable prices. From windows and siding, bathroom fixtures and decking, to tools and hardware we can help you create the home of your dreams. Our staff of trained professionals offers free consultation and advice for a wide variety of construction and renovation projects. Unlike the warehouse box stores our business is built on local support of the homeowners and contractors of our community. We respect that business and promise to provide the superior service needed to keep our customers coming back and we share our profits with our members.
---
Estimating
Any project is more than just materials. It takes a plan and hard work to get the job done. Let us help! We offer estimation and contracting services to get you in touch with the right people to make your project run smoothly.
---
Insulation
Wetaskiwin Co-op is your trusted partner for home improvement, renovations and new construction.
Roxul Insulation

Click to see the Roxul Insulation website Start your project with ROXUL® — the fire-resistant insulation that's made from stone. Home owners, contractors and builders rely on ROXUL for no-compromise insulation solutions that help save energy and create quiet and safer homes.

Although insulation will represent only a small fraction of your budget, your choice will affect the quality of your finished project and the ongoing costs of heating and cooling your home. Additionally, your decision will have an impact on the environment.
ROXUL's line of fire-resistant insulation for residential use includes both thermal and soundproofing products: ROXUL COMFORTBATT® and ROXUL SAFE'n'SOUND®
• The advantages of ROXUL make your insulation choice easy.
ROXUL insulation goes beyond what most conventional insulations offer. The main ingredient of ROXUL insulation is stone. As a result, it provides some very distinct advantages:
• Fire Resistant
Won't burn, or release toxic gases or smoke when exposed to high heat.
Withstands temperatures of up to 2150˚F (1177˚C) – well above heat levels of typical house fires.
Delays the spread of fire, providing you and your family with precious extra minutes to escape.
• Water Repellant
After exposure to water and moisture, won't slump in the wall cavity like many conventional batt insulation products and R-value will not be affected.
Inert substance that does not support mold or fungal growth; resulting in a safer indoor environment for your home.
• Made from Stone
Created from a unique combination of stone and recycled slag – a by-product of steel production that would otherwise go to landfill.
Non-directional fiber structure and higher density for better dimensional stability and an effective barrier against noise.
• Easy to Install
Easy to cut precisely with a serrated blade, such as a bread knife.
• Sound Absorbent
Non-directional fiber of ROXUL stone wool helps absorb acoustic waves and can reduce the intensity and propagation of noise.
Effectively reduces airflow and sound transmissions.
Higher air flow resistivity means better sound attenuation.
Plasti-Fab Insulation
• Plasti-Fab Expanded Polystyrene Insulation
White, lightweight 4' x 8' sheets provide thermal insulation and excellent resistance to water. See us for selection and competitive pricing.
• Advantage ICF System from Plasti-Fab
The industry-leading Plasti-Fab Advantage Insulating Concrete Forming (ICF) System provides an evergy-efficient building envelope with superior sound and fire resistance.
Use the Advantage ICF System for residential, low-rise, multi-family housing, or commercial and industrial buildings.
Available in 8" and 6" product sizes.
For more information on how plastifab can contribute to quiet, secure, confortable and energy-efficient living, go to www.plastifab.com.
---
Windows
Wetaskiwin Co-op's window selection includes both in-stock and ordered windows from the top manufacturers. Our product range allows us flexibility to accommodate every budget and ensure the highest possible quality. Please browse in stock and clearance windows as well as our suppliers' and their web sites, by selecting the respective companies' logo.
Buying windows can be an overwhelming experience; in hopes to avoid this, Wetaskiwin Co-op has selected some very informative links that will provide you with enough information to make an informed decision. For a basic overview of windows, please see Anatomy of a Window. Ready for more information, please see Windows 101.
We're Here To Help!
All Weather Windows

Click to see the All Weather Windows website All Weather Windows prides itself on superior hand-crafted products and outstanding service with history of expertise.
At All Weather Windows, they have been in the window and door manufacturing industry for over 37 years. They know a thing or two about great windows and doors ensuring to prioritizing comfort, low costs and reduction of environmental impact.
Specializing in beautifully-crafted windows and doors, Wetaskiwin Co-op proudly carries the All Weather Window brand to provide energy efficient, sustainable and weather-resistant solutions to Canadian homeowners, builders, dealers and contractors.
For further information and options, please see: All Weather Windows Product Guide.
JELD-WEN Windows

Click to see the JELD-WEN Windows website JELD-WEN is one of the world's leading manufacturers of reliable windows and doors.
With an extensive line of wood, vinyl, and aluminum windows, JELD-WEN's product line accommodates projects of all sizes. Since opening in 1960, this Oregon based manufacture has grown to have over 100 locations in Americas, Europe, Asia and Australia which shows the commitment to quality and dependability.
Unique to JELD-WEN is AuraLast®, which is the secret to longer-lasting wood windows and doors protected against wood rot, water saturation, and termites. Unlike dip-treated wood, which is common in the industry, JELD-WEN's vacuum pressure process forces the protective ingredients all the way through to the core of the wood for virtually 100% penetration. By using a closed-loop, water-based system, volatile organic chemicals (VOCs) are reduced by 96% compared to the ordinary method of dip-treating wood in open vats of petroleum-based fluids. This vacuum pressure process also results in using less preservative to achieve an even greater level of effectiveness. JELD-WEN prides itself on being environmentally responsible while providing a superior product.
Ply Gem Windows

Click to see the Ply Gem Windows website Ply Gem prides itself on bringing "a whole new point of view" to your project with their proven superior quality windows.
Ply Gem Windows believes in giving you exactly what you want. That's why Ply Gem has such an extensive product portfolio – to make finding the right window or patio door easy. They offer a full range of material and style options, so whether you're looking for replacement or new construction products, there are tailor-made solutions for every project and every budget. And, because it's a Ply Gem window, you can take comfort in knowing that every product is designed for style, durability, energy efficiency and ease of installation.
Beauty. Comfort. Value. Performance. When you're ready to change your view and make a statement, count on solutions from Ply Gem. Their windows have been designed and tested for the most discerning homeowner. Engineered with premium materials, precise details and built for a lifetime of use, you can rest assured that you've made the right choice. And, with a wide array of options and styles, you'll find the choices you need to match the most important view of all, yours.
In Stock Windows
To ensure that you stay on time and on budget, Wetaskiwin Co-op continually stocks popular sizes in both the slider and picture windows. Our in stock windows are dual pane and have a 2 1/8" lamb with an optional extension.
---
Sheds and Shelters
Wetaskiwin Co-op is proud to offer superior quality sheds and shelters. Our shelters are available in a variety of sizes for both horses and calves and can be built to custom specifications. With a variety of shed styles available including custom sheds, we strive to accommodate both style and budget. All of our sheds are built with the superior features and options to ensure durability and longevity.
Sheds
All of Wetaskiwin Co-op's sheds offer many standard and optional features to ensure the finest product for our customers.

• STANDARD FEATURES
4" x 6" skids
1 1/2" plank floor with OSB top
2"x 4" or 2" x 6" walls
3/8" OSB wall sheathing
7/16" OSB roof sheathing
Both shingles or metal roofing available
Choice of metal or vinyl siding
Lag bolts
RSS screws
Trussed rafters
• OPTIONAL FEATURES
Soffit and fascia
Wall-in door
Roll-up door
Windows
Insulation of both walls and floor
Commercial insulated double door
Choice of metal or vinyl siding
• SHED TYPES
Gable Sheds


Model: 1267897
4' Roll Up Steel Door
Sandlewood Vinyl Siding
36" Man Door
8' x 10'
Model: 1932524
6' Barn Style Wood Doors
6' x 10'
Model: 1892868
36" Man Door
(3) 30" x 30" Slider Windows
12' x 6' Raised Storage
Vinyl Siding and Shingles
12' x 16'
Model: 1911270
5' Barn Style Wood Doors
White Vinyl Siding
Forest Green Shingles
10' x 12'
Model: 1912575
5' Barn Style Wood Doors
(1) 30" x 30" Sliding Window
(1) 30" x 30" Fixed Window
Vinyl Siding and Shingles
12' x 14'
Model: 1913094
6' Steel Roll Up Door
(2) 30" x 30" Slider Windows
36" Man Door
12' x 16'
Model: 1914597
6' Commercial Steel Doors
(2) 30" x 30" Slider Windows
36" Man Door
Canexel Siding
3/8" Plywood Wall Sheathing
1/2" Plywood Roof Sheathing
Floor and Ceiling Painted
14' x 24'
Model: 1930536
6' Steel Roll Up Door
12' x 16'
Model: 1930817
6' Steel Roll Up Door
(1) 30" x 30" Slider Window
12' x 16'
Model: 1932615
6' Steel Roll Up Door
12' x 16'
Model: 1932698
4' Barn Style Wood Door
6' x 12'
Model: 1932821
4' Barn Style Wood Door
8' x 12'
Model: 1932904
5' Barn Style Wood Doors
Metal Roof
12' x 16'
Model: 1930833
6' Steel Roll Up Door
36" Man Door
(1) 30" x 30" Fixed Window



Barn-style Sheds


Model: 1905439
6' Wood Barn Style Doors
Metal Roof
12' x 16'
Model: 1901013
6' Steel Roll Up Door
12' x 16'
Model: 1905447
5' Barn Style Wood Doors
Metal Roof
12' x 16'
Model: 1932912
6' Steel Roll Up Door
Metal Roof
12' x 16'



Custom Sheds


Model: 1911684
36" Steel Man Door with Insert
(2) 18" x 53" Crank Windows
(1) 30" x 30" Slider Window
12' x 6' Covered Deck
12' x 20'
Model: 194852
5' Barn Style Wood Doors
(1) 36" x 30" Fixed Window
10' x 12'
Model: 1912617
12' x 16'
Model: 1914753
16' x 12'



Shelters
Both horse and calf shelters are available in custom sizes.
• SHELTER TYPES
Calf Shelter


8' x 16'
Metal Roof



Horse Shelter


8' x 16'
Height: 6' to 8'
Metal Roof



Discover more: