Co-op Home & Building Solutions
Actions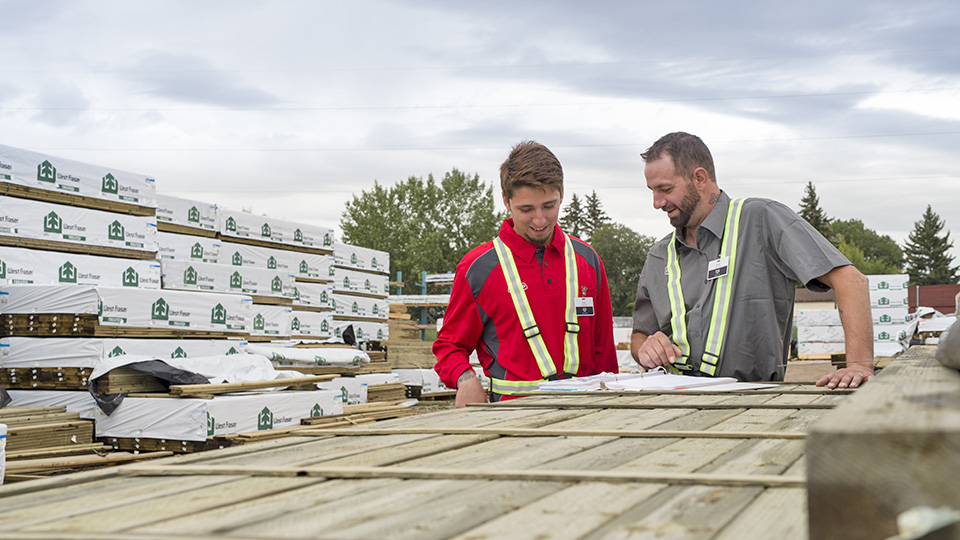 Co-op Home & Building Solutions
September 18, 2019
From small renovations to major construction, your local Co-op has what you need to complete your project and stay on budget. We invite you to consider the us for your next project; we know you'll be happy with the value we provide.
No job is too small or too big for our building projects professionals to handle. For over 95 years the Wetaskiwin Co-op has prided itself in being a partner to area homeowners and contractors. We continue to offer you the finest selection of home improvement and building products at affordable prices. From windows and siding, bathroom fixtures and decking, to tools and hardware we can help you create the home of your dreams. Our staff of trained professionals offers free consultation and advice for a wide variety of construction and renovation projects. Unlike the warehouse box stores our business is built on local support of the homeowners and contractors of our community. We respect that business and promise to provide the superior service needed to keep our customers coming back and we share our profits with our members.

Please see our Hours, Contacts and Location Info page for location details.
---
Do It Yourself
The Wetaskiwin Co-op is happy to provide helpful how-to tips, conversion charts, and other useful information as a service to you.
To help you avoid major problems, accidents or catastrophes around the home.
To help you with do-it-yourself projects so you can get the job done right.
To help you make good choices especially when it involves a major purchasing decision.
These tips are general guidelines that illustrate common methods used in safety, home maintenance or repair, and as such should not be construed as anything else.
Included in the Printable Conversion Charts (attached below) are:
Metric - Imperial Conversions
Lumber Conversion Table
Drywalling Estimator
Shingle Estimator
Roof Pitch Sighter Card
Fencing Conversion Table
---
Fashions

Wetaskiwin Co-op's fashion department is fully stocked with the classiest fashions for both him and her. With everything from work wear to ladies' dress tops and children's fashions, we have something for everyone and for every occasion.
For more details, please visit this article.
---
Pet Supplies
Welcome to Wetaskiwin's largest selection of pet supplies. Every thing from collars and leads to feeds and every other need for your pet. We carry a wide range of products - food, bedding, leads, brushes, shampoos, supplements, wormers, flea powders and collars - and of course, treats. Come check out some of the best pet food products on the market to keep your pet healthy and happy, our staff are eager to help.
---
Garden Centre
What'll it be? Riding Mower or Snow Blower
As the season changes so does the inventory at the Wetaskiwin Co-op - everything you need to make your life comfortable and get your routine chores done, as well as great ideas for gift giving and comfortable living.
In fall and winter you need leaf blowers, snow blowers and shovels, portable heaters, and to start thinking of presents under the Christmas tree.
In summer you spend time gardening & entertaining outdoors. When it comes to Outdoor Living the product line at the Wetaskiwin Co-op is extensive, ranging from patio furniture and outdoor lighting to pond supplies and garden accents. We always carry gas grills, portable Bar-B-Q's and accessories as well as garden supplies and stone and cement products for your landscape needs.
Fantastic Selection on a Whole Range of Gardening Essentials
Bird Seed
Children's Gym/Play/Tree House
Control Weeds, Unwanted Vegetation
Control Pests, Rodents, Insects
Fertilizers
Free Standing Mini-Greenhouses
Fungicides
Garden Hose
Garden Tools
Gardening Tips
Gloves
Green House Accessories
Herbicides
Ice & Snow Removers
Insecticides & Pesticides
Landscaping Supplies
Lawn Edging
Lawn Equipment
Outdoor Lighting
Outdoor Living - accents, gifts, furniture
Patio Stones and Retaining Walls
Pest Control
Portable Hose Reels
Potting Soil and Supplies
Pruning & Trimming Supplies
Replacement Parts
Sheds, Green House
Soil Enhancement Products
Sprayers
Storage
Trellises, Arbours, Plant Stands
Trimmers
Water Gardening Accessories
Weed Killer, Vegetation Control
Yard Carts
---
Tools
Do-it-yourselfers who need the basic tools plus value for the money they spend.
Professionals who needs tools of the highest quality because cheaper is not always better.
You will find a large selection of hardware products at the Wetaskiwin Co-op, including an in-stock selection of tools and accessories from manufactures like:
---
Wood Stoves
Economical Home Heating - New Energy Technology
Have you thought about adding the charm of a fireplace to your home?
Or replacing your old, inefficient one with something more up-to-date?
In Alberta the cool weather is always just around the corner, so now is a great time to visit Wetaskiwin Co-op to see the latest in pellet, gas and wood burning stoves and fireplaces -- all designed for energy efficiency and beauty. You can depend on us for friendly, dependable help.
Come in and see our display of Stoves and Fireplace Inserts!
---
Insulation
Wetaskiwin Co-op is your trusted partner for home improvement, renovations and new construction.
Plasti-Fab Expanded Polystyrene Insulation
White, lightweight 4' x 8' sheets provide thermal insulation and excellent resistance to water. See us for selection and competitive pricing.
Advantage ICF System from Plasti-Fab
The industry-leading Plasti-Fab Advantage Insulating Concrete Forming (ICF) System provides an evergy-efficient building envelope with superior sound and fire resistance.
Use the Advantage ICF System for residential, low-rise, multi-family housing, or commercial and industrial buildings.
Available in 8" and 6" product sizes.
For more information on how plastifab can contribute to quiet, secure, confortable and energy-efficient living, go to www.plastifab.com.
---
Roofing Products
Visit Wetaskiwin Co-op's showroom to learn more about the durability and long lasting beauty of our various siding products. Or you can call us for more information because we want to be your supplier!
Mitten Vinyl Siding products are constantly subjected to rigorous testing that easily exceeds industry standards for impact and heat resistance. They are so proud of their workmanship that their products are backed with the Mitten Lifetime Transferable Warranty.
Westman Steel Industries provides high tensile steel siding and roofing profiles in a variety of colours. They manufacture steel that is up to 60 percent stronger than other sheets on the market.
James Hardie Siding is the only manufacturer that maintains a research and development centre devoted solely to fibre cement technology for siding, backerboard and pipe. That investment has helped them become the fastest-growing siding manufacturer for use in new homes and remodelling projects in North America.
---
Regal Railing
Regal Aluminum Railings
Maintenance free product
Easy installation
3 attractive styles
5 colors
No more painting
Quality and craftsmanship
20 Year Warranty
Contact us for an estimate today.
Email or Phone 780-361-6172
Features
All Regal railings are constructed of an exclusive High-Strength Aluminum Alloy that will never rust or corrode, even in areas where moisture is a problem. Regal products contain up to 25 percent more aluminum than other systems. All aluminum components are powder coated and finished with durable polyurethane via the durable RAILCOAT™ application. This exclusive powder coated finish is the premier coating available in the market today. When applied to these railings. RAILCOAT™ is twice the thickness and hardness of the typical baked enamel finish. Consequently, it is more durable, fade-resistant and scratch-resistant than other coatings. It is available in five colors - white, black, beige, yard bronze and taupe (the last two are available in texture finish).
All components are covered by Regal's limited 20-year warranty and guaranteed not to crack, chip or peel.
This system is also designed to accommodate four attractive styles: Straight Picket, Basket Picket, Wide Picket, or Clear Tempered Glass Panels.
Specifications
Our engineering testing supports maximum spans of 8' with pickets and 6' with glass. Spans beyond this will need a middle post to comply with the engineering testing.
The railing is designed to be 42" high off of the deck surface. The post is slightly taller than this to support the railing.
The pickets for the 42" rail are designed to be fit between the top and bottom rail. The actual picket height is approximately 36 5/8". The stair pickets are approximately 29 3/4" to accommodate the shorter requirements for stair applications.
The clear tempered glass panels come in standard size sheets (24 inch to 66 inch widths) and each is designed to be fit between the top and bottom rail. The actual size of the glass is 35 7/8" high by 1/4" thick. Glass widths are inventoried from 6" to 66" in 3" increments. The glass has been wind load tested to 150 mph.
The complete gate is designed to fill a 48" opening. The gate itself is 44". It comes with hinges and a spring latch which each take up 2". Screws are ordered by the box and come separately.
Fasteners are sold as a separate part by the box.
Product List
Please see the attachment below for the product list (in PDF format).
Other options:
Privacy Fence (72")
Gates
Decorative pickets and inserts
Lattice boards
Installation
The only tools you need for installation are:
Drill
3/8" hex bit
#10 Robertson bit OR #2 square drive
Hacksaw or Mitre Saw
Tape Measure
Rubber Mallet
---
Composite Decking
For more information about selecting or designing the right product for your project, contact the trained professionals at Wetaskiwin Co-op or visit us in our New Building Services Centre.
---
Doors
Need to add a touch of beauty to your home?
Looking for security features?
Is energy efficiency a top priority?
Match a door to the look and feel of your home. Finding the right door - one that combines character, security, durability and energy efficiency - is easy when you contact Wetaskiwin Co-op. Ask about our in-stock and custom ordered doors. We offer choices from a variety of quality manufacturers:
Jeld-Wen interior or exterior doors with optional side lites - garage doors too.
Spectrum Folding Doors - fully assembled and maintenance free
Larson Storm Doors featuring the retractable screen and easy vent system
All Weather high efficiency entrance or garden doors
Summit Lynden interior fire-rated and custom machined doors
---
Home Decor
Experience a world of home decorating possibilities.
Why settle for almost when we can help you find exactly what your project calls for and create the room you have always wanted!
Accent Pieces
Bathroom Fixtures
Cabinets & Vanities
Fireplace
Floor Coverings
Lighting and Fans
Mirrors
Mouldings & Trim
New Doors or Windows
Outdoor Living Accessories
Paint Solutions
Patio Furniture
Life-safety - how safe is your home
The most important aspect of any home decorating project is choosing the materials that complete the room. There are many styles, colours, and manufacturers to choose from and, as is so often the case, budget considerations can make the matter even more complex.
When you need paint, floor coverings, a fireplace or that special item that says, "this room is perfect" come to Wetaskiwin Co-op's home decor centre. Our job is to make your project easy and to help you achieve dramatic results.
Home Visualizer
You can capture the colours you want for furniture, walls, decorative accents, interior and exterior woodwork by using our "Home Visualizer". Bring in a reference colour and see how this new technology will make colour selection easier.
---
Floor Covering
Your floor covering is a key component in any building or decorating project. It can dramatically affect the overall character of a room. With a few preliminary considerations, you can choose a floor that fully enhances your space. When you want to add warmth, character and beauty to your home come visit our showroom. Wetaskiwin Co-op carries the most popular styles, colours, textures, and patterns of flooring, including bright patterns and geometric designs. Choose from natural woods, laminates, ceramic, porcelain, vinyl, carpet and more.
Our flooring experts can discuss the best options to meet your needs, and you can set up an appointment for an in-home measurement to provide you with an estimate for your flooring project.
Feature Products
We feature the finest brands with excellent warranties to guarantee that your floor will look like new for years to come. Looking for ideas - explore the galleries of our feature brands linked below.
Advice or Quote
Call 780-361-6156 for professional advice, to get a quote, ask questions about flooring or help in choosing a floor covering
---
Plumbing and Electrical Supplies
Plumbing, Wiring and Electrical Essentials for the Do-It-Your-Selfer or Professional
If you are seeking a product, please call Wetaskiwin Co-op to ask if we have the item you are looking for. We would be pleased to check inventory, price or availability.
Some of the brands we carry:
---
Lumber
Our lumber offerings give you the opportunity to get the materials you need to tackle your projects.
---
Estimation & Contracting Services
Any project is more than just materials. It takes a plan and hard work to get the job done. Let us help! We offer estimation and contracting services to get you in touch with the right people to make your project run smoothly.
Discover more: