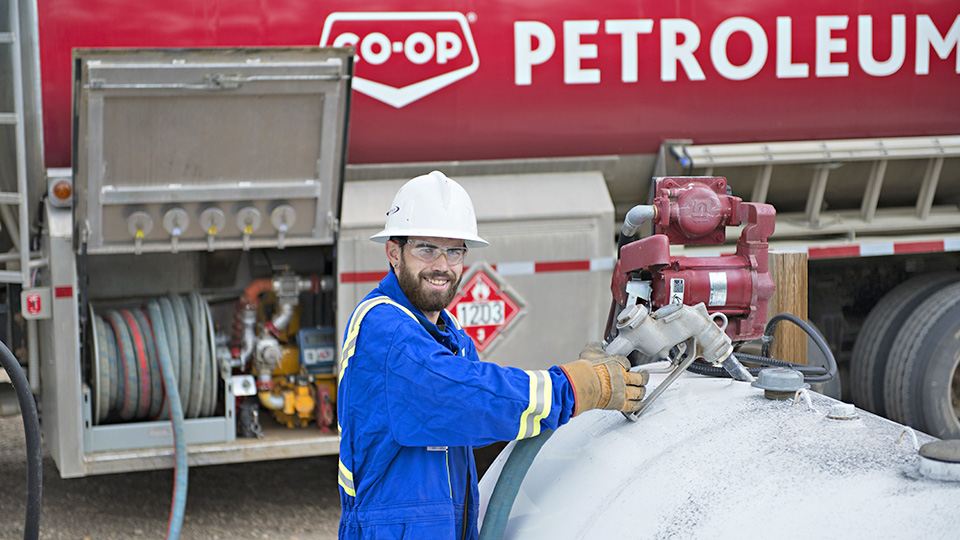 Co-op Cardlock & Bulk Fuel
September 18, 2019
Your local Co-op offers fuel options for large-scale needs. Whether it's Cardlock facilities for card holders, bulk petroleum facilities or bulk propane offerings, we have you covered.
Please see our Hours, Contacts and Location Info page for location details.
Going on a road trip? You can download the Co-op App to find Co-op locations such as Cardlocks across Western Canada!
---
Cardlock
Wetaskiwin Co-op is part of a network of over 280 conveniently located Cardlock fuel stops. Those who have a Cardlock Card can use these facilities whenever they need fuel - 24 hours a day, 7 days a week!
What is Cardlock?
Gas or diesel pumps activated by a special card that is protected by a personal security number that ensures that access is limited only to you. Features include:
24-Hour access
Convenient locations
Efficient way to control fuel costs
Savings, Competitive prices,
Co-op Equity
Cardlock Card Technology ensures convenient access to a large network of convenient Co-op Cardlock locations any time of the night or day (mainly Manitoba, Saskatchewan, Alberta and British Columbia, with some in Ontario as well).
Co-op Cardlock Advantage
High speed pumps and time-tested reliability of card technology ensures you'll be on your way fast.
Clean facilities
Quality products
Brightly lit locations for your safety and ease of access
The latest in environmental protection equipment to ensure safe, reliable product dispensing
Detailed monthly statements to help you monitor use and take control of your fuel costs, streamline your accounting, budgeting and income tax statements.
Cardlock Card Technology ensures convenient access to a large network of convenient Co-op Cardlock outlets any time of the night or day (mainly Manitoba, Saskatchewan, Alberta and British Columbia).
Local convenience
Wetaskiwin Co-op
4707-40 Ave in Wetaskiwin, Alberta
Falun Service Centre
Hwy #13 east, Falun, Alberta
The Falun branch is located on Hwy. 13 east of Wetaskiwin and Hwy 2 en route to Pigeon Lake, Buck Lake, Cowboy Trail, Rocky Mountain House and Drayton Valley. You can't miss us - watch for the country gold building and the Co-op fuel pumps out front.
Want to apply?
Whether you're company wanting cards for your fleet or an individual wanting a personal account, you'll find application forms attached at the bottom of this page.
---
Bulk Petroleum
Wetaskiwin Co-op offers bulk delivery of fuel. We take pride in the product we deliver and in our excellent customer service.
We deliver regular and dyed bulk fuel products. Fuel is also available through our 280 Cardlock locations.
Diesel
Gasoline
Propane
Heating Fuel
Kerosene
Solvent
Camp Fuel
Anti-Freeze
Competitive pricing all year long
... with no strings attached
Co-op fuel products come from the Co-op Refinery Complex (CRC) in Regina. It is the world's first co-operatively owned refinery and has been supplying quality petroleum products to member co-ops for over 73 years. The CRC typically processes 100,000 barrels of oil per day.
Delivery Policy
We take pride in our delivery service.Our trucks are on the road when you need them, delivering your fuel within 48 hours of when you order - guaranteed.
Typically, we would deliver your order Monday to Saturday between 6:00 AM and 10:00 PM. However, exceptions will apply, especially for rush orders.
We do appreciate advance notice.
To ensure smooth delivery of your bulk petroleum products we require:
Accurate directions including: commercial address, highways numbers, range road and township road descriptions.
Please let us know if this is the first time you are placing an order with us.
Safe access to your fuel tanks - an area that is large enough for our fuel truck to manoeuvre within.
Ensure that overhead power lines on the access road or unloading area do not pose a hazard as our fuel trucks may be higher than your vehicles.
Tanks must be identified by some form of identification so we will place a decal on each tank when the marketing representative visits your location or when we make the first delivery.
It is advisable that you meet with one of our marketing reps or with the driver on the first delivery to ensure that we are marking the tanks as you would want, that any potential problems or concerns can be discussed and, of course, then you get to meet one of our petroleum team members.
Please ensure that the tank area is clear of other vehicles, debris, snow drifts, or other obstructions that can interfere with the driver gaining safe access to the tank.
A lighted area for night deliveries is preferable.
Please prearrange a location for where the driver can unload other products such as lubricants, antifreeze, batteries, or other maintenance supplies.
Fuel Purchase Programs
Credit Privileges are available "On Approved Credit". You receive a detailed monthly statement to help you monitor your fuel expenses. Apply for a Bulk Petroleum Account today. (see the Become a Member page for details related to your local Co-op).
---
Propane
Whether you're at home, on the farm or at the cottage, or involved in any type of agricultural, commercial or industrial enterprise, we have the people, trucks and equipment to look after your propane needs.
Wetaskiwin Propane
Propane delivery and services available! Phone 1-800-729-9155 for details!
Falun Branch Propane
Propane bottle and vehicle fill services available at the Falun Branch. Phone 780-352-3548 for details
Discover more: