We are hiring a full-time permanent production Mill Hand
Actions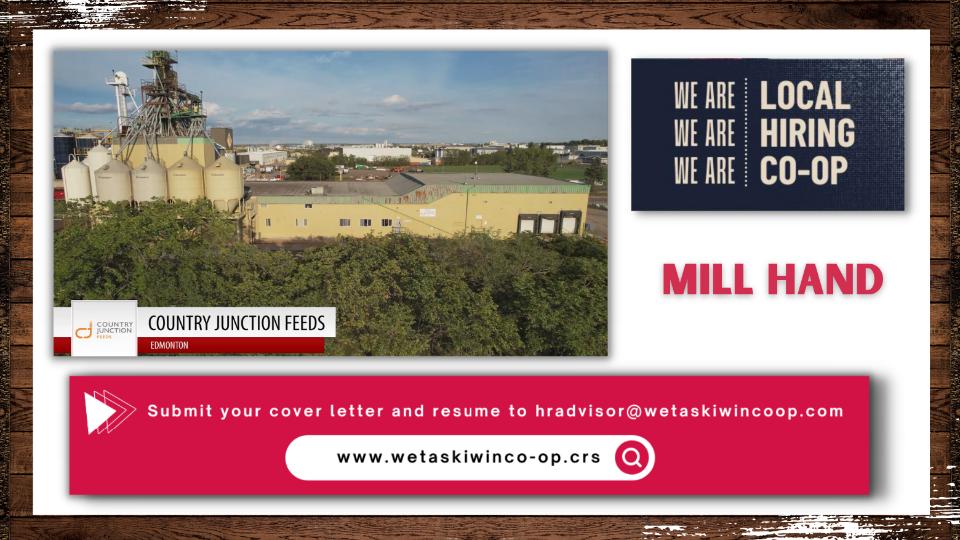 We are hiring a full-time permanent production Mill Hand
March 1, 2023
Mill Hand
We are hiring a full-time permanent production Mill Hand at our very busy North Edmonton Feed Mill facility located at 1818 121 Ave NE in Edmonton, Alberta.
What you'll do:
The Mill Hand is a self-motivated individual who has strong attention to detail. Duties will include but are not limited to:
• Loading and receiving product.
• Operating the pellet mill.
• Recording bin dip measurements.
• Regularly bending and twisting lifting up to 55 pounds.
• Shift work.
• Working with machines and computer systems to produce animal feed in a timely manner that meets or exceeds customer expectations, while meeting production targets.
Who you are:
You are looking for a career in Production, Trades and Maintenance and:
• You have a willingness to be coached and to learn.
• You want to work for a company where there is opportunity for growth.
• You're familiar with working in a production environment.
• You have the ability to work in a team atmosphere with minimal supervision.
• You're honest and trustworthy, are results-oriented and strive to be the best in what you do.
• You believe in building relationships and collaborating to deliver solutions that matter most, and you recognize the value that different perspectives bring to meet shared objectives.
Wetaskiwin Co-op and Country Junction Feeds are a growing and sustainable company. We are proud to offer a supportive working environment based on our Brand Values of Excellence, Integrity, Community and Service. We are pleased to offer the following:
• Full Benefits Plan including Extended Health Care, Dental, Life Insurance & Long-Term Disability Insurance
• Employee Family Assistance Program
• Starting wage of $21.25 per hour
• Employer matched Pension Plan
This position is covered under the Collective Bargaining Agreement ("CBA") between The Wetaskiwin Co-op and Teamsters Local Union 987 of Alberta.
Closing Date: This position will remain open until a suitable candidate is hired.
Please submit resume and cover letter indicating position of interest to:
4707 – 40th Avenue Wetaskiwin, Alberta, T9A 2B8
Phone: 780 361 6171 Fax: 780-352-0297 Email: hradvisor@wetaskiwincoop.com
We thank all applicants for their interest, but only those candidates selected for an interview will be contacted. Wetaskiwin Co-op is an equal opportunity employer.