JOB OPPORTUNITY - Agro Sales Specialist
Actions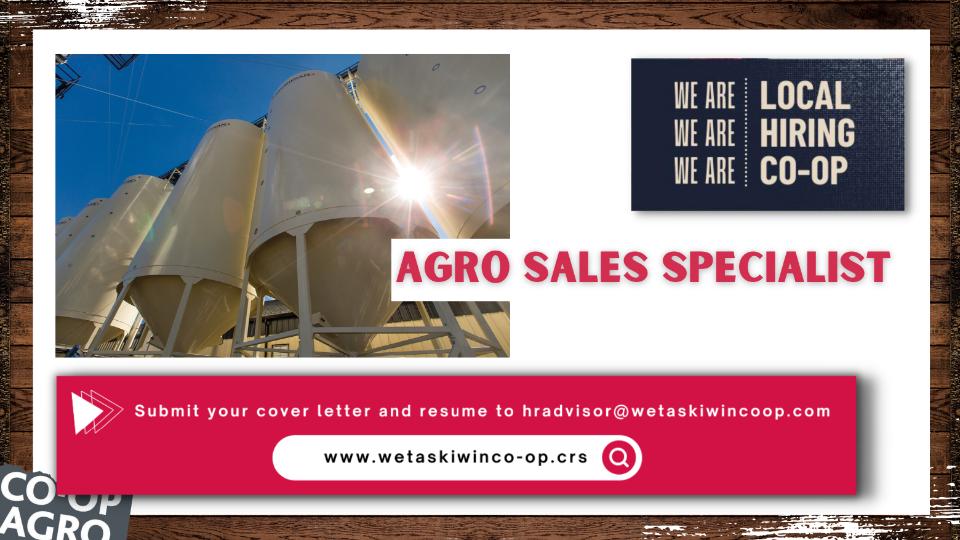 JOB OPPORTUNITY - Agro Sales Specialist
March 6, 2023
The Wetaskiwin Co-op Agro department is hiring a full time Agro Sales Specialist for our Agro Centre, located at 3702 47 Street in Wetaskiwin, Alberta.
What you'll do:
The Agro Sales Specialist will provide excellent customer service to and maintain relationships with local Co-op customers, providing communication, routine support and knowledge of Crop Input and Farm Equipment products.
• Attract and attain new customer business through farm visits and cold calls.
• Achieve and maintain sales, margins, and inventory targets that meet or exceed the needs of both our existing and new customer base.
• Provide agronomic information and recommendations on Seed, Crop Protection, Crop Nutrient and Fertilizer, so that Co-op customers can make informed decisions.
• Ensure customers are well informed on our full portfolio of Farm Equipment, Petroleum, and Lube products, that may suit their farm business needs. This includes what buying programs would bring benefit to them.
Why it matters:
Our team provides a range of products and services to support our member-owners. Through the work that we do, we help to build, fuel, feed and grow Western Canadian communities together.
Who you are:
You are looking for a career in Agriculture and:
• You have a grade 12 education. Preference given to those possessing an Agriculture Degree/Diploma or Certificate from a recognized institution in Agriculture or Agriculture business.
• You have 3 + years of prior sales experience and/or experience within Crop Inputs or Farm Equipment.
• You have 3 + years farming and or agriculture related experience.
• You're honest and trustworthy, are results-oriented and strive to be the best in what you do.
• Must possess and maintain a valid class 5 driver's license and have the ability to work remotely.
• You believe in building relationships and collaborating to deliver solutions that matter most, and you recognize the value that different perspectives bring to meet shared objectives.
Our Team Members receive competitive salaries and a comprehensive benefits package, including Dental, Extended Health, Short-Term and Long-Term Disability, Life Insurance, and an employer-matched contribution pension plan. We encourage our Team Members to take advantage of learning opportunities, to grow and develop and to foster a culture of teamwork and innovation.
Closing Date: This position will remain open until a suitable candidate is hired.
Please submit resume and cover letter indicating position of interest to:
4707 – 40th Avenue Wetaskiwin, Alberta, T9A 2B8
Phone: 780 361 6171 Fax: 780-352-0297 Email: hradvisor@wetaskiwincoop.com
We thank all applicants for their interest, but only those candidates selected for an interview will be contacted. Wetaskiwin Co-op is an equal opportunity employer.
Discover more: